Our Junk Warehouse often sifts through the hundreds of items that come in daily, to discover treasures of great value. Today we uncovered the cricket bat of Australia's greatest ever all-rounder, Keith Ross Miller, who journalist Ian Wooldridge called "the golden boy" of cricket, leading to his nickname "Nugget".
This Gray-Nicolls Keith Miller Autograph Cricket Bat is is a circa 1930's piece of true cricketing & sporting memorabilia in good condition, with great colour and patina. The face of the blade with cracks, consistent with age and use.
Keith Miller was an Australian Test cricketer and a Royal Australian Air Force pilot during World War II. Part of 'the invincibles' team (which incldued Sir Don Bradman), Miller's ability and good looks made him a crowd favourite.
By the time he retired from Test cricket in 1956, Miller had the best statistics of any all-rounder in cricket history. He often batted high in the order, sometimes as high as number three.
Miller was famous for varying his bowling to bemuse batsmen: he made sparing use of slower deliveries and would often adjust his run-up, surprisingly bowling his fastest deliveries from a short run. He was also a fine fielder and an especially acrobatic catcher in the slips.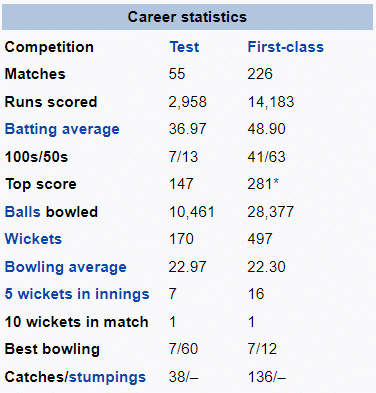 You can buy this item or other items via our Facebook page, where you can see the full catalogue of items online.