Aireys Inlet Trusted Rubbish Removal Service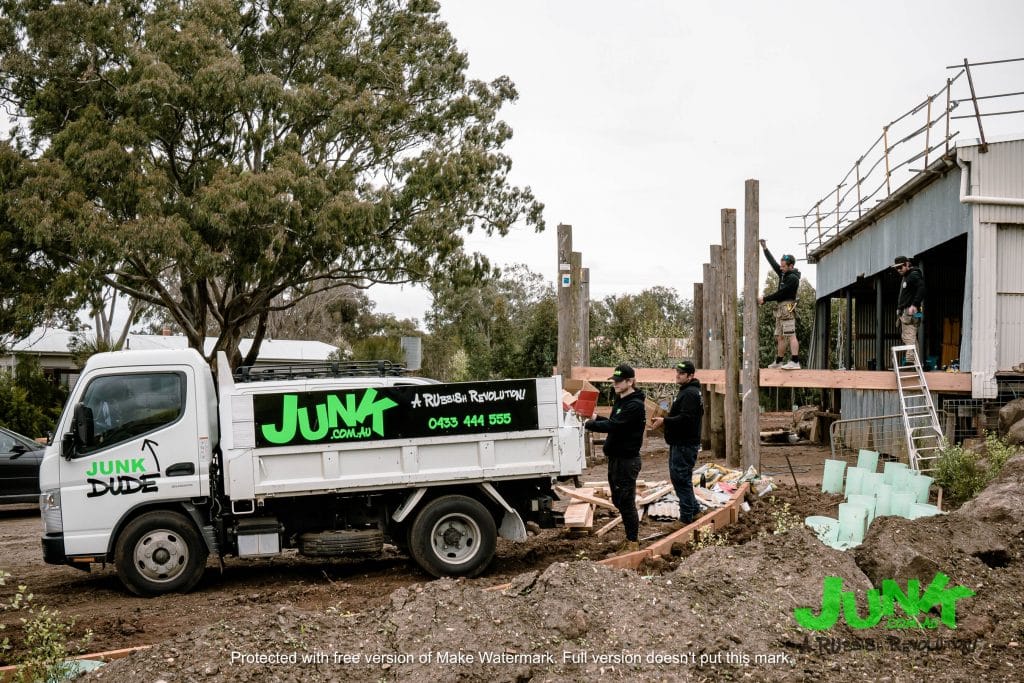 If you're in need of Aireys Inlet's most trusted rubbish removal service, JUNK.com.au has all the best services at an affordable price.

As the number one rubbish removal service in Victoria, JUNK.com.au takes great pride in its work with the underprivileged, as well as their commitment to recycling and reducing landfill.
JUNK.com.au works closely with several charities offering both employment to those struggling to re-enter the workforce and coupons for those in need of furniture and whitegoods to help get their life back on track.
Commercial Rubbish Removal In Aireys Inlet
There are so many great businesses all throughout Aireys Inlet and JUNK.com.au has all the right equipment and years of expertise to service all of them. If you're part of one of these businesses and are finding the rubbish pileup is becoming too much, hindering your ability to work, then make sure you call JUNK.com.au to remove it all for you ASAP.

The best part about all of JUNK.com.au's Aireys Inlet rubbish removal services is that they all include TWO removalist professionals. That's one extra worker, for NO EXTRA COST! That means while our JUNK Crew do all the heavy lifting, you won't have to lift a finger.

While JUNK.com.au gets rid of your commercial rubbish you can get back to your work and not waste precious time moving rubbish. Items we professionally and responsibly remove include (but aren't limited to):
OFFICE JUNK: Cabinets, desks, appliances, electronics, and other old/outdated/defective equipment.
WHITE GOODS: Old fridges & freezers, washing machines & dishwashers, ovens,kitchen strip-outs and more.
GREEN WASTE: Dead or broken branches, Plants and soil, Lawn clippings and debris, Wood. We also provide gardening services such as mowing, clipping, leaf blowing, etc for an additional cost.
Worksite Rubbish Removal for Aireys Inlet
As such an up and coming area for development, Aireys Inlet will undoubtedly need a worksite rubbish removal service. With so many amazing new homes being built, JUNK.com.au is here to provide an affordable and efficient worksite rubbish removal service for Aireys inlet.
Many people might be considering skip bins for their worksite waste. Not only is JUNK.com.aus service better for the environment, but our service gives you two removalist professionals to do all the heavy lifting, so you can get back to working on your building site. If you want a list of all the materials JUNK.com.au is able to take from your worksite, you can find them all here.
As for metals our service will accept: Stainless steel, Aluminium, lead, brass and copper.
As for Individual items, we take almost literally everything. Think anything from BBQ Grills, Doors (both metal and wood), Automotive parts, iron furniture and railing and so much more.
Aireys Inlet Gardening Service

Is your Aireys Inlet house a home away from home and needs some garden maintenance while you're not living there? JUNK.com.au also specialises in gardening services and green waste removal.

A well maintained garden can leave a great impression on your guests. Let JUNK.com.au take care of your garden, no matter how wild it has become. There's no limit on how much green waste we can take. JUNK.com.au has a massive range of vehicles ready to accommodate all types of jobs. Our trucks range from 2 cubic metres, all the way up to 50 cubic metres in our massive semi-trailer.
Regular Pruning, hedging and trimming are essential to maintaining the health of your garden. We can provide a service that will ensure your roses, plants, shrubs and trees stay in top condition all year round while keeping your garden neat and tidy. JUNK.com.au will get rid of all your green waste for you ASAP: We always send at least two removalist professionals to every job to ensure you don't have to lift a finger.
What is JUNK Culture?
JUNK delivers an exceptional service to the ordinary business of JUNK and RUBBISH Removal.
Removing Junk from our living and work environments creates space and peace of mind.
Whether it's an unwanted couch, old fridge or washing machine; basically anything that's taking up valuable space in the home, garage, office or warehouse JUNK.com.au removes it for you.
So make sure if you need an Aireys Inlet rubbish removal service, choose JUNK.com.au for the most environmentally responsible service in Victoria!
Call us today on 0433 444 555 for a free quote!
We do all the heavy-lifting

JUNK trucks from 2m3 to 22m3

We service all areas of Aireys Inlet Trusted Rubbish Removal Service

Rubbish Removal in Victoria | VIC | All Suburbs Serviced