Convenient Rubbish Removal in Geelong CBD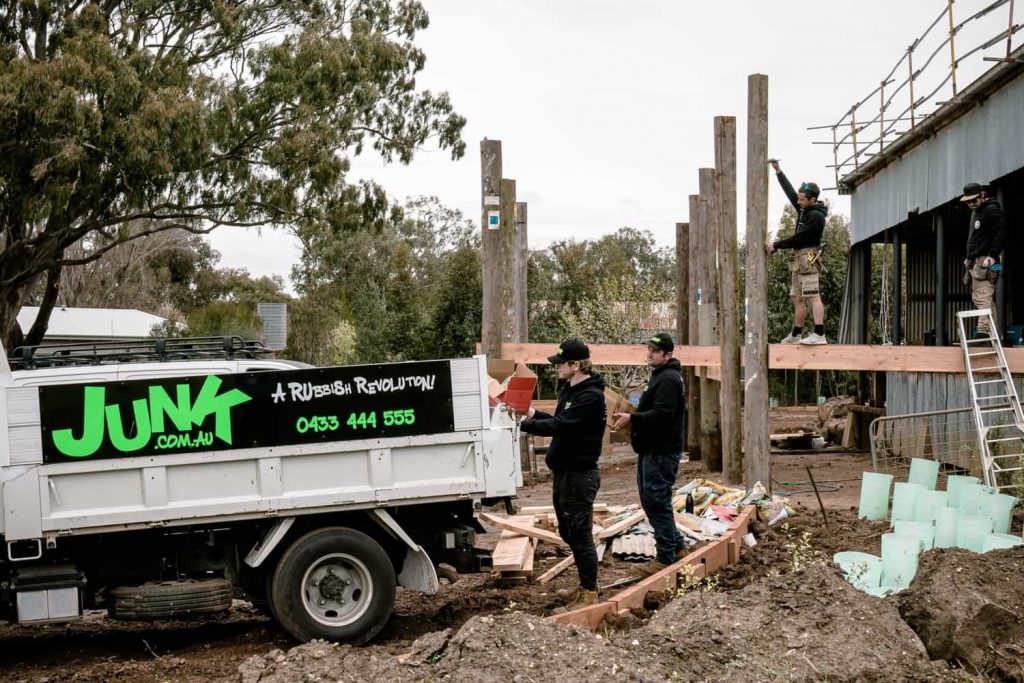 JUNK.com.au makes rubbish removal in the Geelong CBD a breeze. No matter if you're living in high rise apartments or a block with a backyard, our services make cleaning out rubbish from Geelong CBD homes easy.
JUNK.com.au is more than a rubbish removal company. We're dedicated to making sure as much of your rubbish is recycled as possible. Furthermore, JUNK.com.au ALWAYS supplies two removalist professionals with every truck we send out for your Geelong CBD rubbish removal.

We're also proud of the work we do in the community. When you hire JUNK.com.au to remove your Geelong CBD Rubbish, you're helping us help the community. We offer essential furniture and appliances to those who need it most.
Geelong CBD Real Estate JUNK removal
Our services are perfect no matter if you're a property manager needing to quickly vacate a property of rubbish from previous tenants, or a tenant yourself, in need of a rubbish removal service before your next house inspection.
Dumping Litter has been prevalent in Geelong CBD , making junk.com.au's services especially needed. No matter how big your JUNK is or what floor it's on, our team will do all the heavy lifting, making sure you never lift a finger!

Garage Rubbish Removal in Geelong CBD

Don't live in an apartment, and need your back yard's shed or garage to be cleaned out? JUNK.com.au's services are perfect for all your needs. The Aussie garage is undoubtedly a symbol of a household's household's safe and secure storage space.

Whether it be your car, important documents, gardening tools or hazardous materials, the garage is also the number one space in Australian homes to hoard unwanted items. JUNK's Geelong CBD rubbish removal service will make sure your garage can be restored back to tip top shape.
Our crew of two will be sure to sweep up any leftover debri in your garage, so when we're done you can instantly start using your shed once more.
Retail Rubbish Removal in Geelong CBD

If you own a business, big or small, you're going to come into a lot of excess rubbish from time to time. Whether that's Display Fixtures, Mannequins, Clothes, Coat hangers, Boxes or Any leftover trash and debris, JUNK.com.au has a same-day or next day rubbish removal service that's perfect for any budget.
There's so many shopfronts throughout the Geelong CBD. If you own or work for any of these outlets and need your rubbish gone ASAP, then you can guarantee JUNK.com.au can do the job.

In line with our environmental obligations and objectives to reduce landfills, all recyclable items are disposed of responsibly. Where possible we will donate to those suffering from homelessness, adversity, and financial hardship.

The best thing about our Retail rubbish removal service is that we can repurpose the old clothes you're throwing away to people who need it. That means no waste into landfill.

Office Rubbish Removal Geelong CBD
The Geelong CBD is host to a great range of office complexes. JUNK.com.au has the equipment to expertly service and remove junk from every one of them.

What kind of rubbish do you need removed from your office? Is it Cabinets, Desks, Couches, Storage, Appliances, Office supplies, Electronics or any kind of Old/outdated and defective equipment?
The best part about junk.com.au's office rubbish removal Geelong CBD service is that there's no limit on what volume we can take. JUNK.com.au has a massive fleet of trucks, ranging from 2 to 50 cubic meters. So if your office cleanout requires multiple trucks, then that's no problem for junk.com.au
We believe businesses should be focusing on their own projects and leave the time-consuming and physically draining office strip outs to our specialists.

How Does JUNK.com.au Give Back To The Community?
At Junk.com.au we are all about giving back to our community. We work with charities and run initiatives to support those in need. Some of our partners are The streets Barbershop and homeless.com.au.
There's multiple reasons why JUNK.com.au is the best option for you, no matter what kind of Geelong CBD Rubbish removal service you need, we have the most trusted experts in the industry.
Already know what kind of JUNK you need gone ASAP? You can call us for a free quote today on 0433 444 555. Or head back to our homepage for the online quoting system.
We do all the heavy-lifting

JUNK trucks from 2m3 to 22m3

We service all areas of Convenient Rubbish Removal in Geelong CBD

Rubbish Removal in Victoria | VIC | All Suburbs Serviced