Responsible Rubbish Removal Anglesea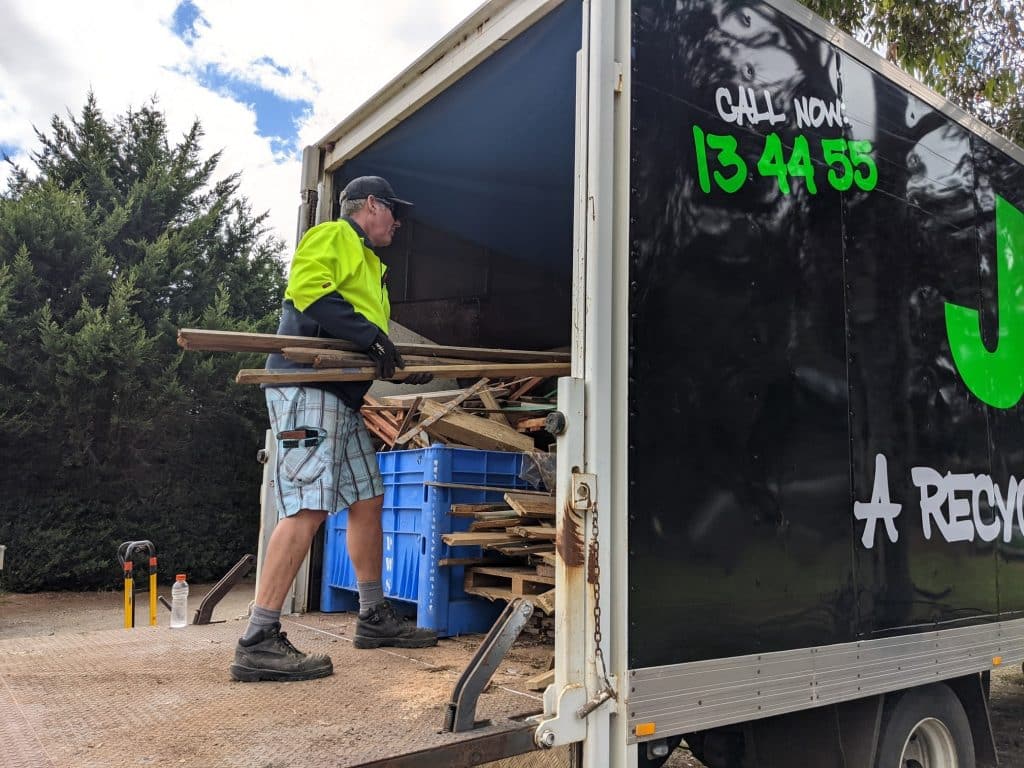 JUNK.com.au is a rubbish removal service with a difference. In a world where climate change has become a real problem at the forefront of people's minds, JUNK.com.au is a rubbish removal service in Anglesea that is committed to making a difference.

Unlike other rubbish removal companies, we don't go from your house straight to the tip. JUNK.com.au limits landfill wherever possible and recycle as much as we can. How do we do this? Instead of driving straight to the landfill we take ALL of the rubbish we collect back to our resource recovery center. 
The National Waste Policy Action Plan strives to reduce total waste generated in Australia by 10% per person and achieve an 80% average recovery rate from all waste streams by 2030. JUNK.com.au is doing their bit to help this plan by recycling as much of your rubbish as possible. What does JUNK.com.au recycle? At our resource recovery center we are able to recycle: 
-Glass
-Scrap Metal
-Cardboard
-Mattresses
-Wood
Not only do we recycle these items, but we also repurpose the furniture we collect to those who need it most. Take a look at the charities that JUNK.com.au works with on our JUNK Community page.
Anglesea Tenant Rubbish Removal

Tenants are required by law to remove all the junk they've brought with them over their tenure on the property. JUNK.com.au's rubbish removal services are perfect for tenants who want to regain their FULL bond back.
That means our service can take all of your JUNK for you, as well as sweep up afterward. By hiring our services you'll waste no time doing the heavy lifting and can then focus on other things you need to do in your big move out.
By hiring a JUNK.com.au rubbish removal service, you're not only helping prevent injuries, but you're also promoting productivity. What we mean by this is when tenants attempt to remove heavy JUNK by themselves it can often lead to dangerous injuries. The best part about junk.com.au is that all of our services include two removalist professionals to do all the heavy lifting for you. So forget the risk of lifting all your rubbish and let us do it for you!
Household Rubbish Removal Anglesea
There's no shame in having collected a multitude of items in your home over however long you've been living there. JUNK.com.au offers a non-judgmental service for removing household rubbish. No matter how much JUNK you've got, we will be able to take it for you.

In regards to household items of rubbish that we take, JUNK.com.au accepts:
General household waste, White goods, Renovation and building debris, and green waste.

There is only a small list of items we don't take, which includes any hazardous materials such as asbestos, Toxic Chemicals, Biohazard sharps, and Infectious Waste.
Green Waste Removal in Anglesea

As we know Angelsea is home to hundreds of holiday homes that may go unattended for months on end every year. Whether that's what's happening for your property, or you're just in need of a green waste removal service in Anglesea, JUNK.com.au is here to help.
With a Same-Day or Next Day service, we can make sure the green waste in your back and front yard is gone ASAP. Don't worry if you don't have all the right tools to cut and prune your green waste, JUNK.com.au comes prepared with two professionals who are armed with all the appropriate green waste removal equipment.

The types of green waste we take are Turf, Grass clippings, Dirt/soil, Leftover landscaping materials, Rocks, pavers, and bricks,  Plants, shrubs, small trees, Branch clippings, weeds, leaves, and garden debris.
Why Is JUNK.com.au The Best Option For You?

Unlike other rubbish removal companies, JUNK.com.au has environmental sustainability at the forefront of our practices. We are devoted to recycling and upcycling as much of the junk we collect as possible. Limiting landfills is a massive priority of ours because we know this is the rubbish revolution this industry needs.
So if you're in need of an Anglesea Rubbish Removal Service, JUNK.com.au won't just take the stress of lifting rubbish away from you, we're also environmentally responsible with all the JUNK we collect.
So call us today for a free quote! 0433 444 555.
We do all the heavy-lifting

JUNK trucks from 2m3 to 22m3

We service all areas of Responsible Rubbish Removal Anglesea

Rubbish Removal in Victoria | VIC | All Suburbs Serviced