Torquay Same Day Rubbish Removal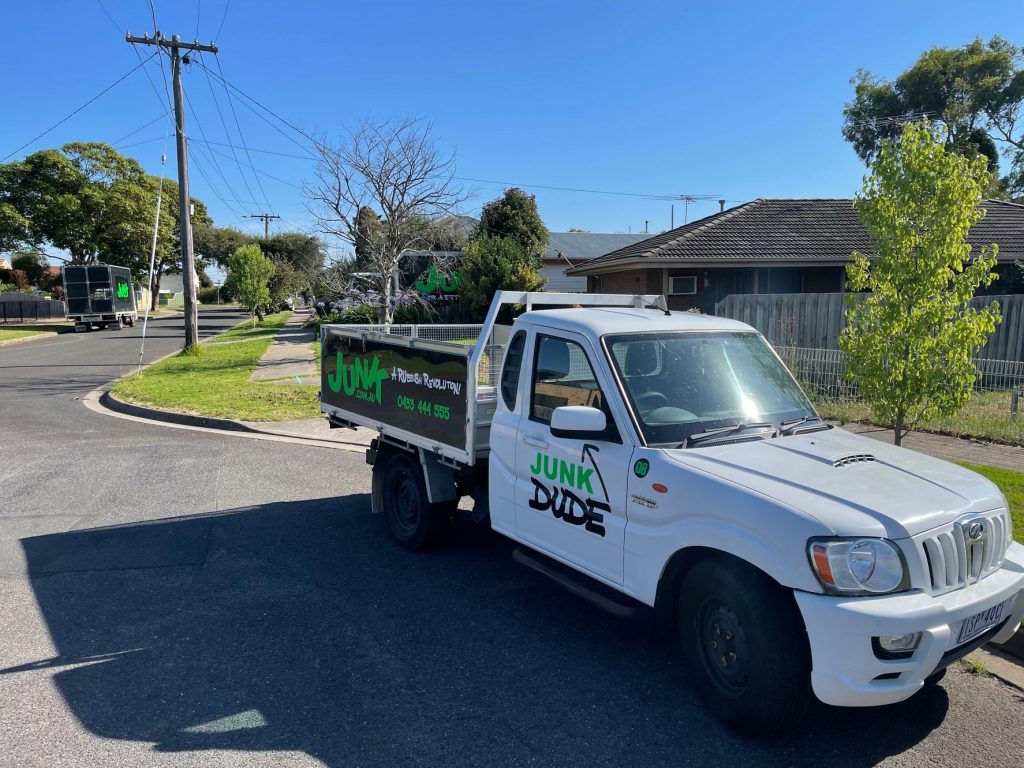 Is your JUNK problem piling up quick? Do you need it gone ASAP? JUNK.com.au offers a same day rubbish removal service in Torquay, making sure whatever rubbish you have is moved quickly and without you doing ANY of the lifting yourself.
Torquay is home to amazing beaches and other beautiful nature. JUNK.com.au is a recycling company that does rubbish removal differently, to help prevent such amazing ecosystems from getting tarnished by the likes of rubbish and landfill.
Unlike all of our competitors, at JUNK.com.au we strive to reduce landfill wherever possible and make sure whatever can be recycled is recycled.
Garage Rubbish Removal Torquay
Has your garage been flooded by random junk you've collected over time? JUNK.com.au can help you claim that space back and create some breathing room once again! Our garage rubbish removal is the perfect service if you have an abundance of old tools, sports equipment, car parts or anything else that's made its way into the clutter.

What makes a garage cleanup even more essential is the fact there can be a mixture of nastys that can be piled up amongst your family items. In the typical Aussie garage you might also be storing your vehicles, lawn mowers and other tools. Anything with a motor that needs fuel, oil or other dangerous substances to maintain/run may be leaving stain marks all throughout your garage.
Our service includes same-day removal. That means if you want your garage cleaned today, it can be done! So why is JUNK.com.au the best choice for garage rubbish removal? We are an efficient, same-day removal service who prioritise your family's safety by removing hazardous materials. Not only is our service affordable for any budget, we are also an environmentally conscious service, who disposes of all the JUNK we collect responsibly.
Torquay Worksite Waste Removal
There's no question that building worksites can accumulate a massive amount of rubbish during the time they're operational. There's plenty of Worksites in Torquay that ended up spilling their accumulated rubbish onto the next worksite down. JUNK.com.au's worksite waste removal service is here to help and stop the vicious cycle of dumping waste on the next worksite along.

What kind of waste do you have on your worksite that you need removed ASAP? Materials that JUNK.com.au cannot take, for safety reasons, are including but not limited to: Asbestos, Hazardous waste, Toxic Chemicals, Biohazard sharps, and Infectious Waste.

That means we can take any type of metal you may have: Stainless steel, Copper, Aluminium,
Brass and lead. In terms of any specific individual items can include (but not limited to) Metal cabinets, Exercise machines/equipment, BBQ grills, Lawnmowers, Doors (metal and wood), Iron furniture and railings and automotive parts.
Retail Merchandise Rubbish Removal Torquay

JUNK.com.au has a great range of services including our retail merchandise rubbish service. There are some great stores all throughout Torquay, most of which will at some point in time acquire different merchandise rubbish.
This kind of rubbish can come in many different shapes and sizes, but JUNK.com.au takes it all! No matter if it's Displays, Fixtures, Mannequins, Clothes, Coat hangers, Boxes or any leftover trash and debris, we've got the equipment and the expertise to remove it from your shop.
Why is JUNK.com.au's Retail rubbish removal service the ebay in the business? We are a same-day rubbish removal service, meaning if you need your rubbish gone ASAP, we can do it for you. Our service includes two rubbish removal professionals who do ALL the heavy lifting for you! That means instead of helping lift and drag heavy items, you and your employees can continue to work and serve customers and focus on the things that really matter.

In line with our environmental obligations and objectives to reduce landfills, all recyclable items are disposed of responsibly. Where possible we will donate to those suffering from homelessness, adversity, and financial hardship.
How Much JUNK is too much JUNK?
There is no job too big for JUNK.com.au! Our fleet of vehicles range from 2 cubic metres, all the way to our massive semi-trailer at 50 cubic metres. So if you're in need of a same day rubbish removal in Torquay, JUNK.com.au is the perfect service for you.

No matter how much JUNK you've got, we not only can take it the same day as you call, but we will do ALL the heavy lifting for you. If you need our services today call 0433 444 555 today!
We do all the heavy-lifting

JUNK trucks from 2m3 to 22m3

We service all areas of Torquay Same Day Rubbish Removal