Waurn Ponds Hassle Free Rubbish Removal Service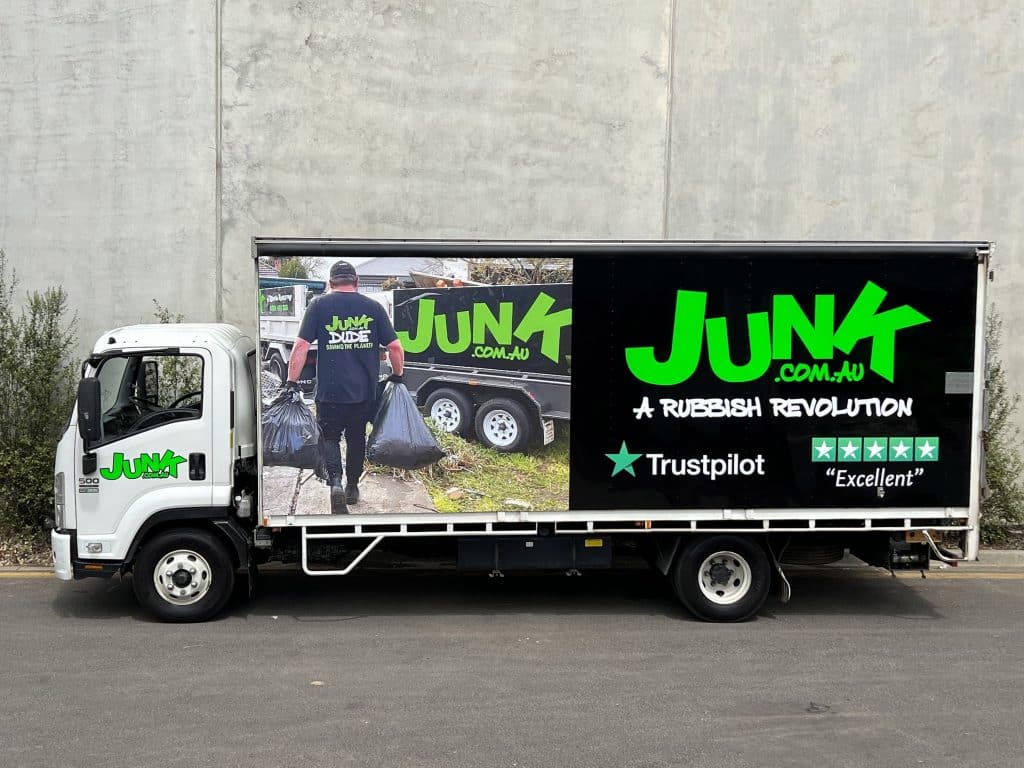 Waurn Ponds is a massive area of Geelong and undoubtedly people encounter rubbish problems every day. JUNK.com.au is here to help with that problem and not only take away your rubbish but do so in an environmentally responsible manner.
Our response time to your queries is something that sets JUNK.com.au apart from our competition. If you need your JUNK gone ASAP we offer a same day or next day service. So whenever you call us up, we'll make sure your junk is removed at a time that is most convenient for you.
When you call our team at JUNK you can know with comfort that we're based in Victoria and don't pass any of our calls to international call centres. JUNK.com.au is proud to be an Australian born and raised brand that is engaged in the community, doing more than just rubbish removal.
Last year we worked with charities such as homeless.com.au and The Streets Barber Shop to ensure we gave back to the parts of the community who need it most.
We believe that salvaging goods that still have life left in them is not only good for the environment but also our community. Everything we sell is at affordable prices and a percentage of each sale is donated to homeless.com.au and their charities.
Retail Merchandise Rubbish Removal Waurn Ponds
Do you run one of the many businesses inside the Waurn Ponds shopping centre? If your business is based here, or anywhere else in Waurn Ponds, JUNK.com.au is here to get your business cleared out and back on track.
Promotional and seasonal changes will often leave retail merchandise franchises with excess and unwanted rubbish. To help keep your workspace as clean and efficient as possible JUNK.com.au is here to help in the removal of any retail merchandise rubbish, should you not be able to sell it, on the day you need it gone.
Our services are efficient and prioritise your business' safety and productivity. At affordable prices for any budget, JUNK.com.au has the perfect responsible retail merchandise waste disposal service for you.
Not convinced? Just check out some of the great reviews left for us online where we are commended for our Professionalism, Punctuality, Quality, Responsiveness and overall Value for our customers.

Waurn Ponds Gardening Service

There's plenty of houses with backyards in the Waurn Ponds suburbia that may be in need of an efficient gardening service. No matter whether it's pruning, hedging, trimming or a general garden tidy-up, JUNK.com.au has an effective service affordable for any budget.
What makes JUNK.com.au's services even more appealing is that you always get two rubbish removal professionals for no extra cost! That means while we do ALL the heavy lifting for you, you can sit back and relax while your beautiful garden begins to take its great shape once more.
We have all the appropriate equipment to do the job, giving your home's garden the 5 star look it deserves. We've got everything from large farm-appropriate ride-on mowers to smaller push mowers, and can finish the job with edging to ensure the best possible finish around gardens, driveways, fences, and porches.
When it comes to your footpaths and driveways we have the solution to making them feel like new through high-pressure hose cleaning.
Green Waste Removal In Waurn Ponds
Adding green waste to landfills can compromise the decomposition process. If not done right, green waste can be a huge problem to dispose of.
Not sure how much green waste you've got? No job is too big for JUNK.com.au, so don't worry if you think it wont fit all into one truck. JUNK.com.au has a fleet of trucks that range from the smaller 3 cubic metre trucks to massive 50 cubic metre semi-trailers that can take a whole suburb worth of green waste.

Not sure what kind of green waste we accept? JUNK.com.au will gladly take off your hands:
Turf, Grass clippings, Dirt/soil, Leftover landscaping materials, Rocks, pavers, and bricks, plants, shrubs, and small trees, Branch clippings, Weeds, leaves, and any other sort of garden debris.

How Does JUNK.com.au Work?
ENQUIRE ONLINE
Enquire on our website with details such as your location, type of junk and how much junk you have.
Or give us a call on 13 44 55.
WE CALL YOU BACK
We will call you back within 30 mins to give you a quote for the job and confirm a date that best suits you.
WE REMOVE YOUR JUNK
Our crew of 2 will come to your place on the selected date and remove all of the Junk.
We do all the heavy-lifting

JUNK trucks from 2m3 to 22m3

We service all areas of Waurn Ponds Hassle Free Rubbish Removal Service