Affordable Lorne Rubbish removal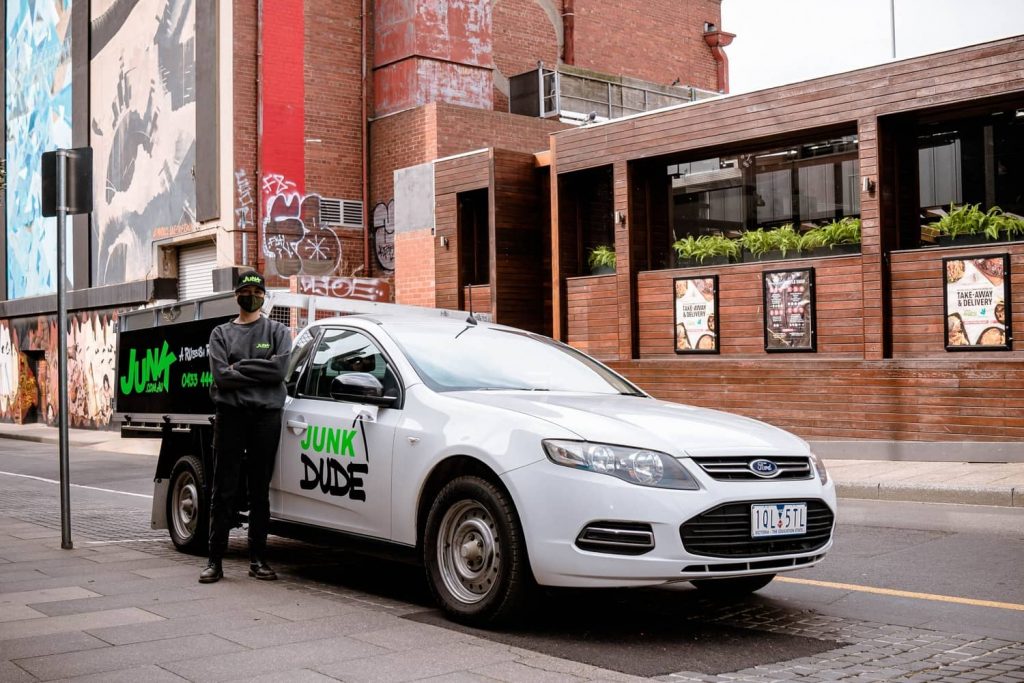 JUNK.com.au is committed to reducing landfill wherever possible, whilst supplying an affordable Lorne Rubbish removal service.
Unlike our competitors, we never head straight to the tip, but instead direct all of our trucks, once they've picked up your JUNK, to head back to our resource recovery centre.

Here we sort all of your rubbish into the appropriate recycling, making sure as little of it goes into landfill as possible.
Deceased Estate Rubbish Removal Lorne
Clearing out a deceased estate of a loved one is never easy. JUNK.com.au's service makes sure the cleaning and rubbish removal is completed efficiently and without judgment, to leave you time to be with your family.
Lorne is such a beautiful place, with so much to see and do. By providing a deceased estate rubbish removal in Lorne, we can do all the heavy lifting for you, so you and your family can enjoy what Lorne has to offer, in peace.
Gardening Services in Lorne
JUNK.com.au has a range of services available, including a gardening service that gets rid of all your green waste. Victoria has so much rainfall every year, making it hard to keep up with mowing the lawns, pruning the trees and all the other flora and fauna you might have on your property.
What makes it worse is that when left for even one or two months, an entire property can become overwhelmed by mother nature reclaiming its habitat. No matter how much green waste you've got, JUNK.com.au has a massive range of trucks available to remove all your green waste.

We've got trucks running from 2 cubic meters, all the way up to our 50 cubic meter semi-trailer. So if you need the JUNK.com.au gardening service ASAP, make sure to give us a call on 0433 444 555.

Lorne Renovation Rubbish Removal
Are you one of the many homes in Lorne going through a home renovation? Depending on what area you're renovating you'll need the quickest and most efficient renovation removal service, so you can get back to using that area with your family.
Many people going through renovations will probably look to hire a skip bin. Don't waste your time, money, and health by ordering a skip bin you only half fill and have to load yourself. JUNK.com.au helps you skip the skip and helps get your renovations moving forward.

Not only does our rubbish removal service aim to recycle as much of your rubbish as possible, we also do ALL the heavy lifting for you!

Not all renovation rubbish is going to be the same as your regular rubbish. Take a look at all of the JUNK that we do take here. You will notice from this list that we take pretty much every type of rubbish you can think of, barring anything that's hazardous (to you or our workers), such as Asbestos, toxic chemicals and other Hazardous waste.
Garage Rubbish Removal in Lorne
Over the years you'll notice that the shed or garage is often the place where we hoard things. It can be specifically hazardous if you're beginning to store your everyday items alongside dangerous chemicals that usually live in the shed or garage.

With JUNK.com.au's garage rubbish removal service you won't have to lift a finger. Our JUNK Crew will make sure to get rid of all the junk taking up space in your garage, so you can begin to take advantage of that space once more.

Just think of all the extra space you can get back when you use JUNK.com.au's garage rubbish removal service! With all that clutter gone you'll have room to breathe again in your garage.
How Does JUNK.com.au Recycle My Goods?
JUNK.com.au is your first choice for responsible rubbish removal. That means when we pick up your rubbish, we don't just head straight for the tip or landfill. What makes our service especially environmentally friendly is that we take ALL of the junk we collect back to our resource recovery centre. Here we sort all of it into the appropriate recycling piles and make sure we limit our contribution to landfill as much as possible.
So make sure if you need a Lorne rubbish removal service then choose the most environmentally friendly service available in JUNK.com.au.

Call us today for a free quote! 0433 444 555
We do all the heavy-lifting

JUNK trucks from 2m3 to 22m3

We service all areas of Affordable Lorne Rubbish removal