Affordable Ocean Grove Rubbish Removal Service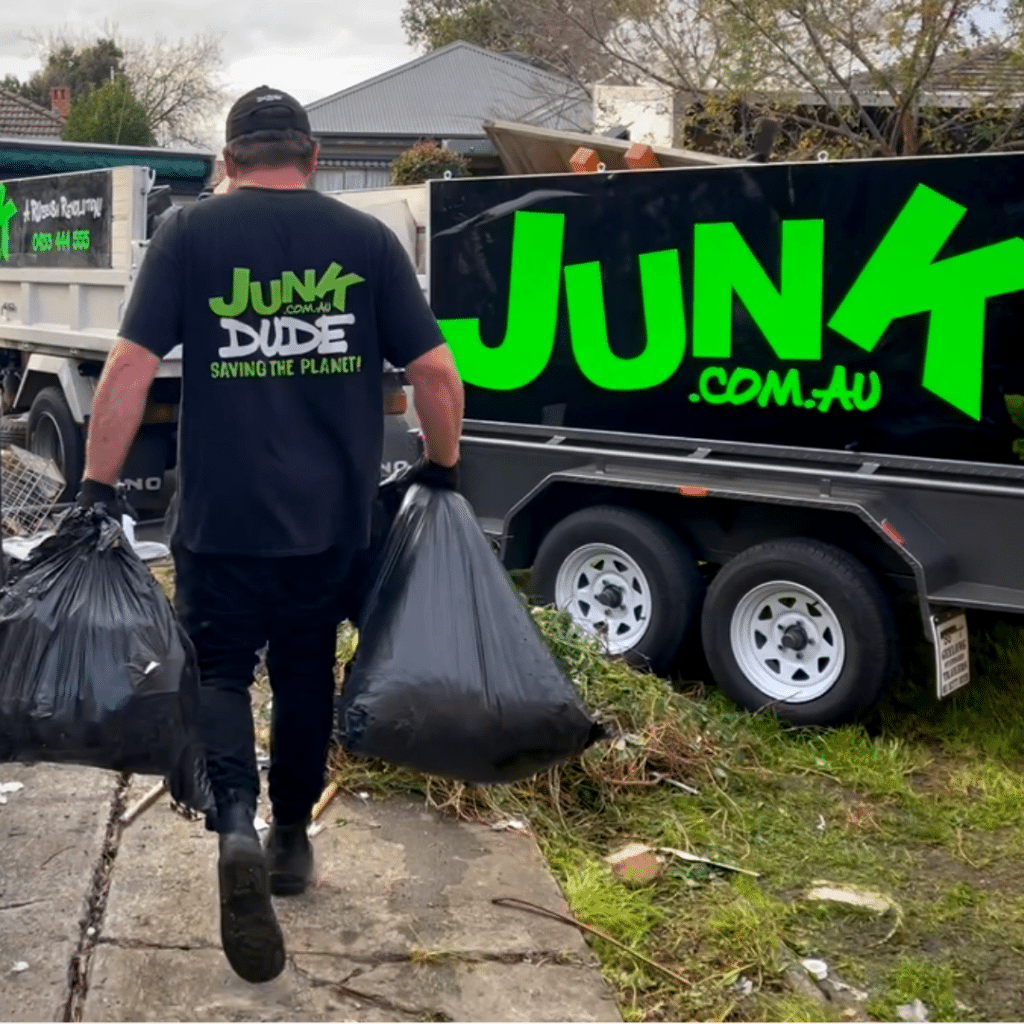 JUNK.com.au is a recycling service that can take ALL of your rubbish and is Ocean Grove's most reliable and affordable rubbish removal service. What makes us different from our competitors is that we don't take your JUNK straight to the tip. We always take any JUNK we collect back to our resource recovery centre for processing. Here we sort it into the appropriate recycling piles and make sure we limit landfill wherever possible.
Our services also ALWAYS include 2 removalist professionals who will do ALL of the heavy lifting for you! That means you can sit back, relax and not have to lift a finger. Our team of professionals are always courteous and friendly and make sure they take exactly the right JUNK you need taken away ASAP.
Another point of difference for JUNK.com.au is that we are active in our community, helping others when we can. We believe that salvaging goods that still have life left in them is not only good for the environment but also our community.
With the financial stress caused by COVID19, buying second-hand and up-cycling furniture is becoming more popular. Homeless.com.au provides a portal for those wonderful citizens offering help and linking them with those in our communities who need it most.
Renovation Rubbish Removal In Ocean Grove

There's no doubt there are so many great activities to do down in Ocean Grove, which has resulted in many new homes being built. If you're a part of this group, or doing home renovations on your Ocean Grove property, JUNK.com.au is here to help with your renovation rubbish removal!

Typically renovation rubbish can't be simply stashed away with your regular household junk, because they're not everyday household rubbish items. So don't get stressed about what to do with it and call JUNK.com.au today. Not only will we save you the stress of figuring out where to put all your rubbish, we'll do ALL the heavy lifting for you, making sure you don't have to risk getting injured clearing out the heavy rubble and dubri.
So what kind of renovation rubbish are we able to collect? We can take: Wood (including floorboards), Scrap metal, Carpet, Tiles, Old furniture, Electrical appliances, Fixtures and drywall.
Ocean Grove Deceased Estate Rubbish Removal
JUNK.com.au offers a professional deceased estate rubbish removal service with both empathy and heart. At times like these it's always difficult to know where to even start with sorting items. Once you know what needs to be kept and what can be thrown away, JUNK.com.au will make sure any items that can be recycled will be recycled or find a new home.

If there is furniture or clothes that are too good to throw away we can also take these items with care and donate them to our Junk Warehouse where proceeds of our profits go to our nominated charities such as homeless.com.au. It's important to remember JUNK.com.lau is here to help and by supplying 2 removalist professionals as part of our service (who can do all of the work and lifting) that means you can go and focus on other important things with your family in these difficult times.
Backyard Rubbish Removal Ocean Grove
Ocean Grove is home to many great homes with amazing backyards. Through seasonal changes, hoarding of items or DIY home landscaping projects, you may have found your backyard is in need of a cleanup.
By hiring JUNK.com.au you don't have to forfeit your time and health by lugging around heavy items all day. You also don't have to waste resources by hiring a skip bin that you might only half fill and have to do all the heavy lifting yourself. JUNK.com.au helps you skip the skip and will take all your rubbish for you in one quick session.
How Does JUNK.com.au help out the community?
In 2021 and 2022 we worked with Homeless.com.au, Safe Haven and Street Library Australia.
We have also run programs for children such as the JUNK KIDZ LIBRARY where we collect donations and provide them to kids who are less fortunate. All children deserve the opportunity to learn and stay active!

JUNK.com.au is more than just a rubbish removal service. We want to engage with our community and make it a better place, while cleaning up the streets and looking after our environment.
If you need an Ocean Grove rubbish removal service today, make sure you call JUNK.com.au on 0433 444 555 for a free quote.
We do all the heavy-lifting

JUNK trucks from 2m3 to 22m3

We service all areas of Affordable Ocean Grove Rubbish Removal Service