Armstrong Creek Affordable Rubbish Removal Service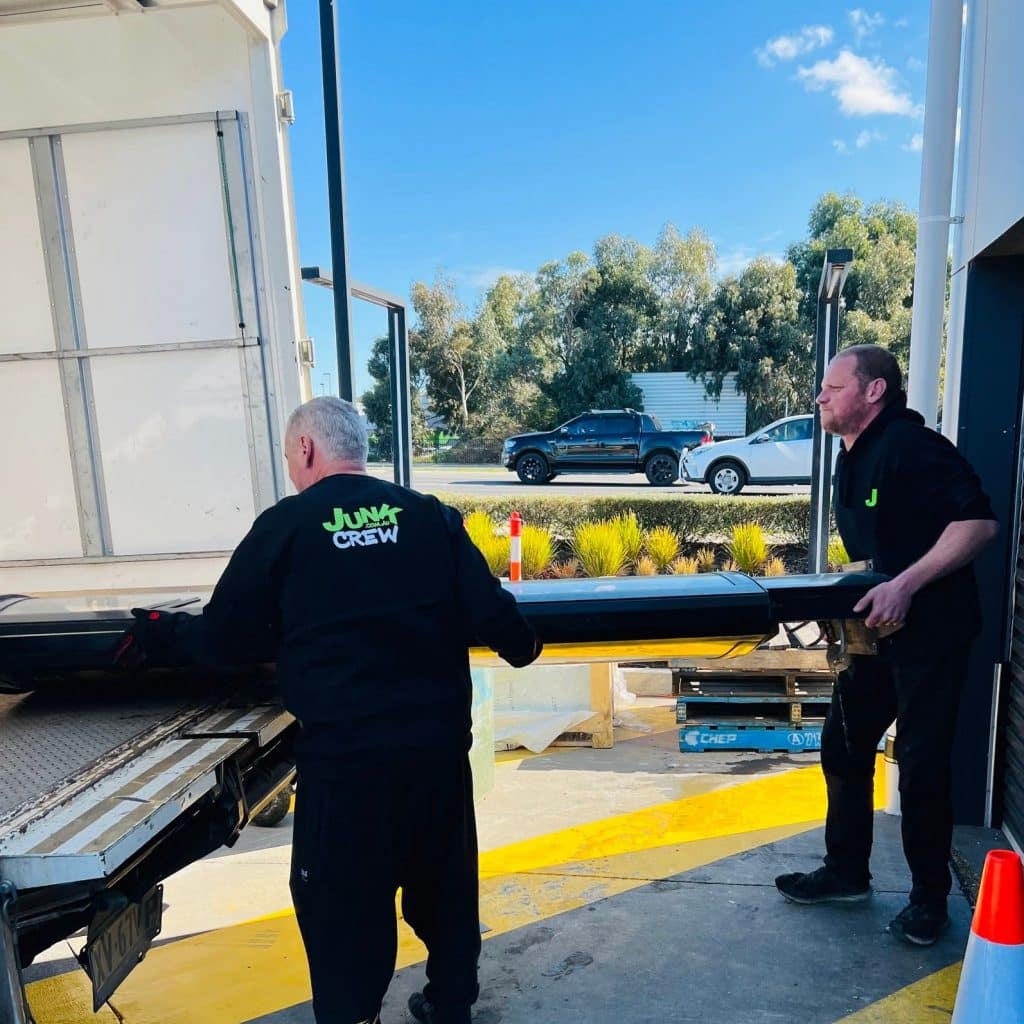 Are you in need of a fast, effective, and affordable rubbish removal service in Armstrong Creek? JUNK offers a service that makes life easy for you at a rate that is affordable for any budget.
Unlike other rubbish removal companies, at JUNK we care about the impact of our service on the environment. So rather than heading straight to the tip with the rubbish we've collected from you, we instead take EVERYTHING we collect back to our recycling centre for processing. JUNK is committed to reducing landfill wherever possible, so all of our services aim to be 100% recyclable.
Not only does JUNK fulfil its environmental obligations, we also work in the community with different projects and partnerships, meaning JUNK is more than just rubbish removal, but also a service that is making a difference in the community.
JUNK has partnered with both Homeless.com.au and Streets Barber in Geelong to make a difference to people's lives who need it most. Our hiring initiative involves getting underprivileged people back into the workforce and helping them set up their lives and become financially stable again.
Armstrong Creek Worksite Rubbish Removal
Armstrong Creek has plenty of urban growth planning projects underway. With so many worksites there will undoubtedly be an overload of rubbish piling up on each worksite. Instead of dumping your rubbish onto the next vacant block and risking fines, JUNK is able to help you out and save your precious time too.
Not only will our service get rid of your worksite junk, we will also save you time as our services always include TWO removal professionals at NO EXTRA COST. While our amazing staff do all the heavy lifting for you, you can focus on what's important and continue working on your worksite.
If you're not sure what items we take as part of this service, we can take (but aren't limited to) any type of metals (steel, copper, aluminium, brass and lead) as well as an individual items such as Metal cabinets, Exercise machines/equipment, BBQ grills, Lawnmowers, Doors (metal and wood), Iron furniture and railings and Automotive parts.
Renovation Rubbish Removal Armstrong Creek
With a population of nearly 5000, Armstrong Creek has plenty of homes that may be fixing up their dream home with DIY Renovations.
Typically renovation rubbish can't be simply stashed away with your regular household junk, because they're not everyday household rubbish items. If you're worried about the emotional and physical duress that renovation rubbish leaves, then JUNK.com.au is an affordable, efficient and timely removal service.
Our service is efficient and same-day removal, meaning you can get back to living in your family home. We also prioritise your home or businesses safety and productivity. With TWO removalist professionals given to you as part of the service, you'll be back to doing the things that are important to you in no time.
What truck size do I need to book?
At JUNK we have a whole fleet of vehicles available to come to your doorstep. You won't actually have to choose your type of truck, as we will do that for you based on how many cubic metres of JUNK you actually have.
Our newest trucks have just come in and can store a massive 44 cubic metres, meaning there is no job too big for JUNK! Not only do we have a fleet of trucks that range from 3 to 44 cubic metres at our disposal, we also have our own line of hook bin trucks and excavators that are available for our crew to help in the assistance of picking up your rubbish.

So if you're based in Armstrong Creek and are in need of a rubbish removal service that is both time efficient and affordable as well as reducing landfill and recycling your rubbish, call JUNK today on 13 44 55!
We do all the heavy-lifting

JUNK trucks from 2m3 to 22m3

We service all areas of Armstrong Creek Affordable Rubbish Removal Service