Colac Affordable Rubbish Removal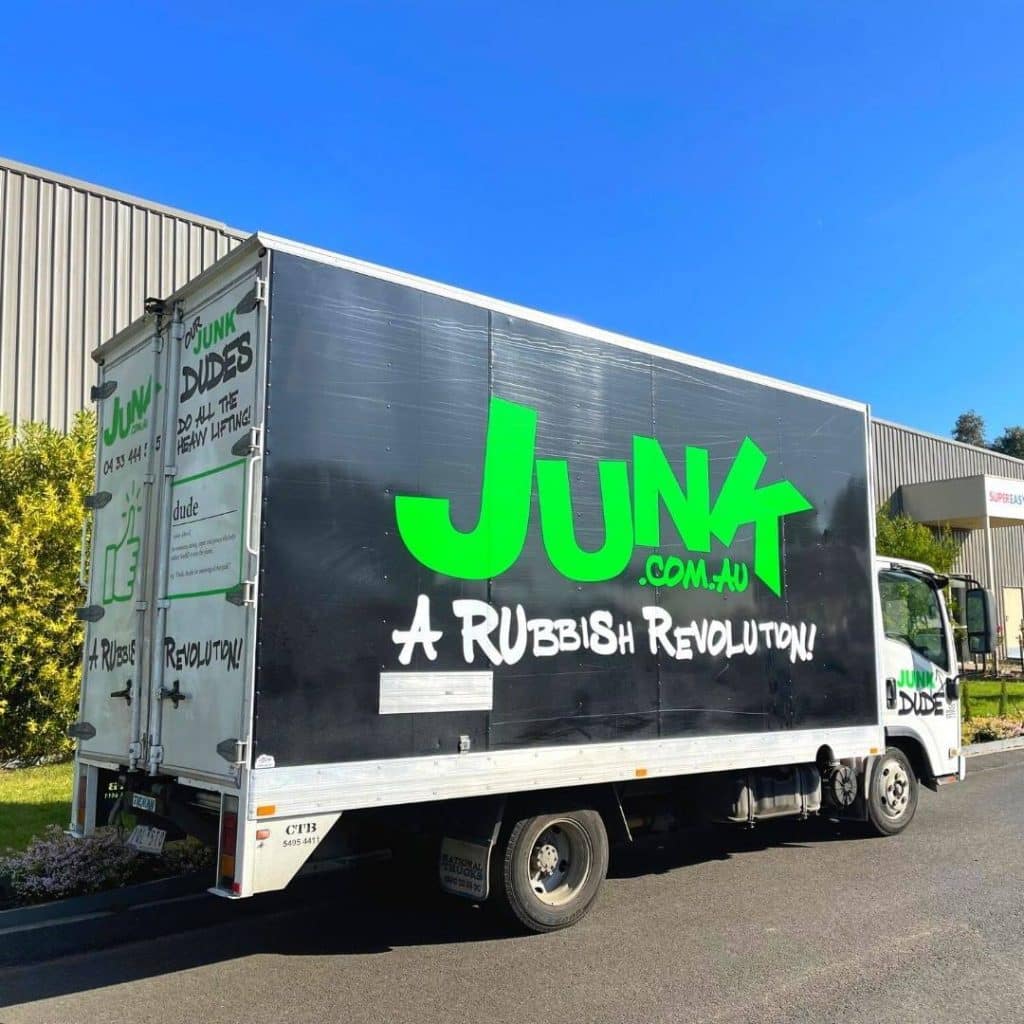 What makes JUNK.com.au such an efficient and reliable service in Colac? JUNK.com.au prides itself on its communication with customers, making it an easy and stress free process.
Colac is known for its rich farming and forestry history and JUNK.com.au wants to maintain these natural beautiful places by limiting landfill and removing rubbish wherever we can. Our rubbish removal service focuses on more than just rubbish removal, our environmental obligations focus on recycling whatever items we can, whether that's through your regular type of recycling, or repurposing items to new homes.
With a whole range of services available, JUNK.com.au is more affordable than our competitors and more efficient than any skip-bin service. With your skip-bin services you'll possibly only fill it half way and have to do all the heavy lifting yourself, causing you lost time and risking potential injury.
With JUNK.com.au we always supply two or more removalist professionals, so you never have to lift a finger. By choosing JUNK.com.au to get rid of your rubbish you're hiring a company that goes above the call of duty and responsibly removes your rubbish, recycling whatever possible.
Our services will help you save time, money and keep your mind at ease that your JUNK isn't just ending up in landfill.
Colac Green Waste Removal
Colac is home to hundreds of acres of property with a massive amount of land. With so much space there's undoubtedly a special need for green waste removal services. Luckily JUNK.com.au offers such a service, and better yet has a range of gardening equipment that can complete any job.
Equipped with anything from large farm-appropriate ride-on mowers to smaller push mowers, we can finish the job with edging to ensure the best possible finish around gardens, driveways, fences, and porches.
We can provide removal of ALL your garden waste. Whether it is neatly in a pile or you need a hand collecting it around the yard; Our service includes one to two men to help you do ALL the work.
Garage Junk Removal in Colac

There's no doubt the garage can often be the place we hoard things into over time. This can lead to being over cluttered and will take up your valuable space. Dumping JUNK in your garage can potentially be dangerous due to the other types of items typically stored there.

As this is the usual spot for cars and garden maintenance equipment, (like lawnmowers, whipper snippers etc) there is every chance there will be fuel stored alongside this equipment. When you end up cluttering these spaces, you leave yourself vulnerable to spilling these chemicals over your belongings and risking breathing them in.
The best part about JUNK.com.au's garage rubbish removal in Colac is that our JUNK Crew does ALL the heavy lifting for you. That means you can sit back and relax while we take care of all your rubbish for you.
Who Are The People Who Make JUNK.com.au?
At JUNK.com.au one of our greatest joys is celebrating the people who make our businesses work. To do that, we've made up a list of categories to acknowledge them for what they are:

Our JUNK HEROES are our workers that you'll see out in the world day to day, collecting and removing rubbish. We celebrate our JUNK Heroes because, in the ordinary business of rubbish removal, they perform extraordinary service. Always friendly. Always professional.
Our JUNK LEGENDS refer to the amazing customers that we work for. Our customers are LEGENDS because by hiring our rubbish removal service they are sharing the vision of empowering people through the opportunity of employment.
Our JUNK STARS are our hard workers who have come from a homeless or disengaged background. We hire individuals through our mentor program to re-introduce them into the workforce and the community; providing stability and purpose to get them back on their feet.
No matter which one of our rubbish removal services you need, JUNK.com.au is able to service ALL of Colac and make sure your rubbish is gone ASAP! Make sure to give us a call on 0433 444 555 today for a FREE QUOTE.
We do all the heavy-lifting

JUNK trucks from 2m3 to 22m3

We service all areas of Colac Affordable Rubbish Removal