Inverleigh Environmentally Friendly Rubbish Removal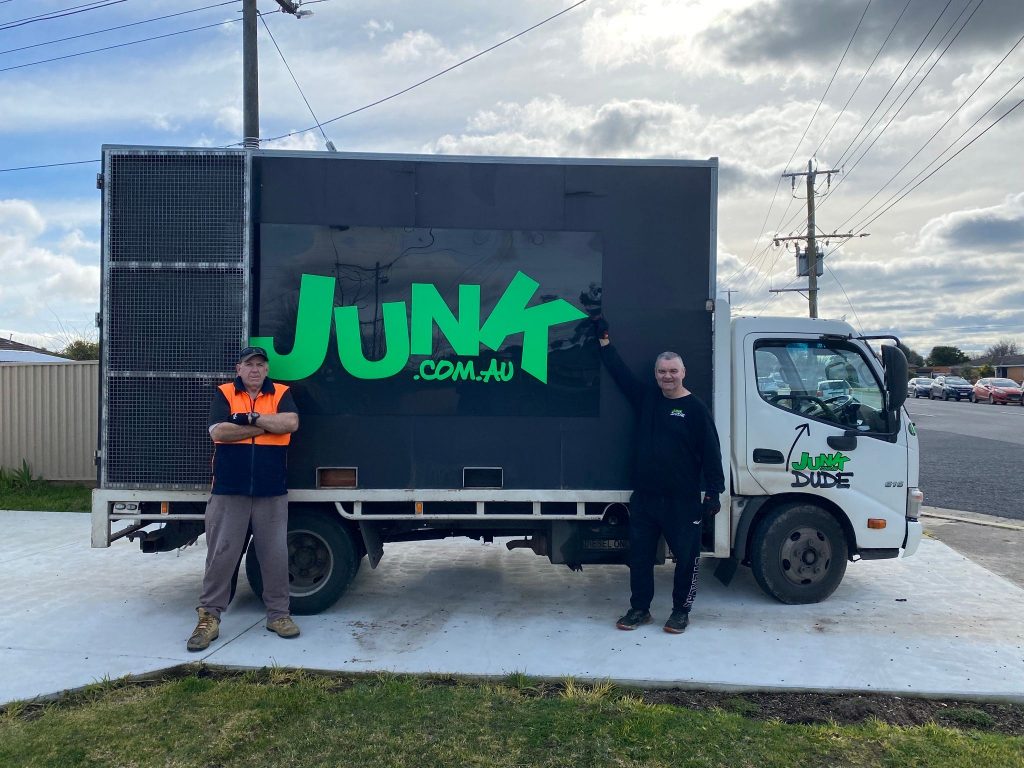 Inverleigh is home to some great scenery, amazing wildlife and several other attractions. JUNK.com.au goes beyond the call of duty in our rubbish removal service and strives to limit landfill wherever possible. We want to keep Inverleigh beautiful and help take away as much rubbish as possible and keep the environment in good shape.

Where our competitors go straight from collecting your rubbish to the landfill tip, here at JUNK.com.au we take ALL the rubbish we collect back to our resource recovery centre for processing. When your rubbish reaches our warehouse, we sort it into the appropriate recycling bins which are then disposed of ethically and responsibly.
Deceased Estate Rubbish Removal Inverleigh
Dealing with the pain of losing a loved one is always difficult. When you're also tasked with cleaning up what you loved one has left behind, it can be a long process in figuring out what has sentimental value for the family and will be kept, versus what can be thrown away and is rubbish.

Once you've gone through this process our friendly staff can take care of the rest, so you can continue grieving and spending time with your family. While you focus on the important things JUNK.com.au's service will take care of everything else. As all of our services include at least two removalist professionals at no extra cost. Our staff will work seamlessly to get rid of your rubbish in no time.
Not sure what our deceased estate clearout includes? JUNK.com.au is able to remove all of the leftover clothing and furniture, garden and shed rubbish, appliances and electrical goods. As part of our service we make sure to sweep up afterwards and take any leftover debris from the cleanout.
Inverleigh Office Rubbish Removal

A cluttered office will reduce efficiency and production in any business. There comes a point where the clutter can no longer continue to be ignored. On top of an increase in work efficiency, a clean office space will provide your business with an outstanding professional appearance and leave a lasting impression on your clients.

JUNK.com.au will provide the perfect rubbish removal service for your business or office, no matter how much JUNK you have got. We have an entire fleet of vehicles at our disposal that range from 3 cubic metres, all the way to our semi trailer truck that can carry a massive 50 cubic metres of rubbish.
Not only can we take any amount of rubbish, all of our services include 2 or more rubbish removal professionals who will do all the heavy lifting for you. That means your entire office will not be distracted by having to move any items themselves and can instead continue work and remain productive.

Not sure what our office cleanout service includes? We are able to remove furniture, any type of electronics waste (old computers, laptops etc), data destruction, any type of flooring and any other general rubbish removal.
However far your office move is, at JUNK.com.au we have the experience and the professionals to organise most of your move for you, so you have more precious time to focus on your business.

How does JUNK.com.au Help the community and the planet?
Inverleigh is an amazing community that wants to know if this service is actually helping save the environment and helping the community in the process. In line with our environmental obligations and objectives to reduce landfill. Where possible, we will donate to those suffering from homelessness, adversity and financial hardship and wherever possible all recyclable items are disposed of responsibly.
Unlike other rubbish removal companies who take the junk they collect straight to landfill, JUNK.com.au avoids going to landfill at all costs. Instead of driving straight to the tip upon collecting your rubbish, JUNK.com.au takes ALL items back to our resource recovery centre for processing. Here we sort it into the correct recycling piles where they then go on to get repurposed to a new home or are recycled and avoid landfill altogether.
We are proud to employ disengaged individuals to help them transition back into the workforce and more importantly the community. We strive to empower our Crew with opportunities to show leadership, reach personal goals and provide mentorship to the team.

If JUNK.com.au sounds like the perfect Inverleigh rubbish removal service for you, then make sure you give us a call today on 0433 444 555 for a FREE QUOTE!
We do all the heavy-lifting

JUNK trucks from 2m3 to 22m3

We service all areas of Inverleigh Environmentally Friendly Rubbish Removal