Lara Rubbish Removal Service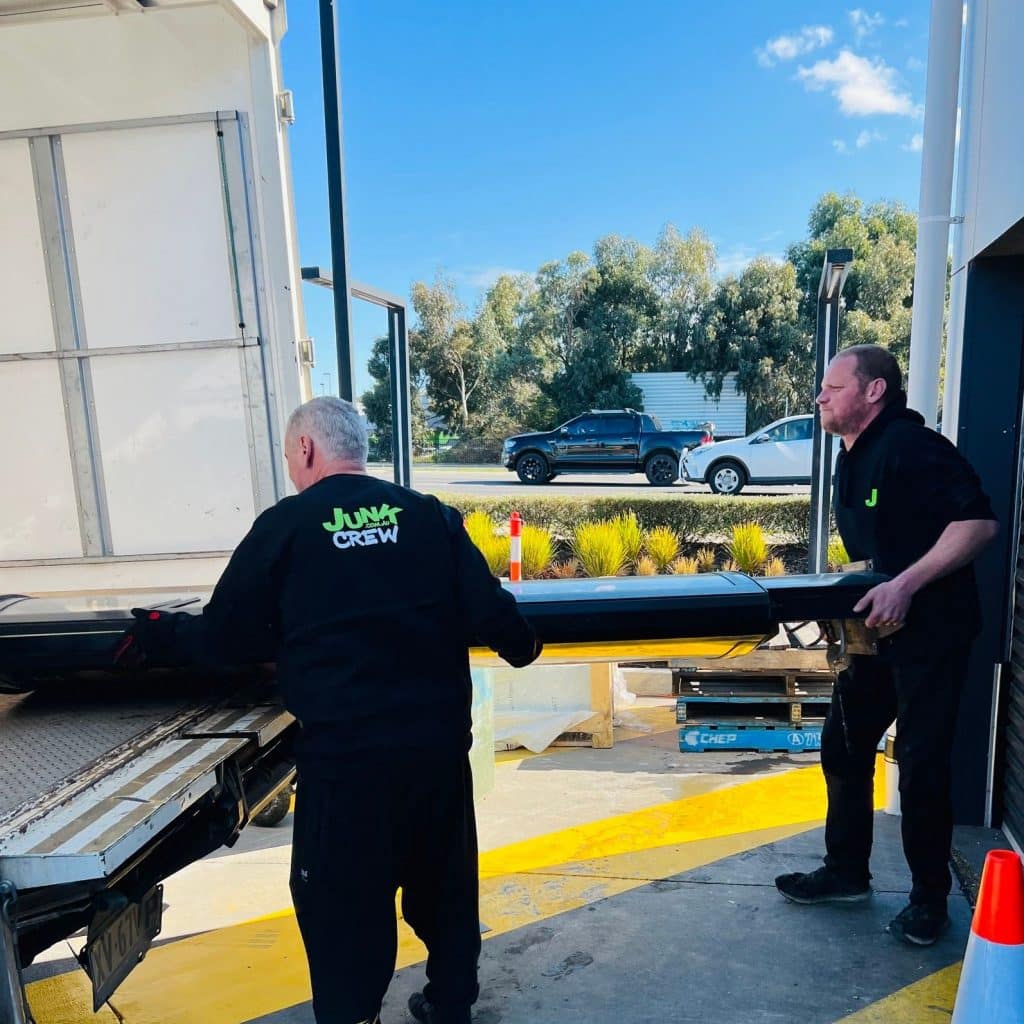 Lara is home to Hovells Creek and the stunning You Yangs. JUNK.com.au provides more than just your ordinary rubbish removal service to the suburb of Lara. At JUNK.com.au we're revolutionising the rubbish removal industry as we aim to achieve our environmental obligation of limiting landfill wherever possible.

Now a 'recycling revolution', JUNK separates itself from competitors for the fact that ALL of the rubbish we collect is taken back to our resource recovery centre for processing. Instead of going straight from your house to the tip, we sort all of your junk into the appropriate recycling, aiming for 100% recyclability.
Lara is blessed with stunning natural beauty which JUNK is committed to protecting and cleaning up. All of our services are committed to being environmentally friendly, so give us a call for your FREE QUOTE today on 13 44 55.
Commercial Rubbish Removal Lara
We service all types of businesses including (but not limited to) Schools, universities, theatres, offices, retail stores, grocery stores, and restaurants.
Getting rid of the rubbish your business has accumulated can be both time-consuming and even physically tolling. With JUNK you'll always get TWO removalist professionals as part of the service who will do ALL of the heavy liftings for you.
With this included as part of the service, you can go back to focusing on what is important to your business and not have to risk injury to you or your staff in moving all of your junk. With two workers supplied it also makes JUNK a very time-efficient service that will help you and your colleagues get back to working effectively sooner.
We provide the right service for you, conveniently as you need it, while also having the peace of mind that your junk is being disposed of responsibly in an effort to reduce landfill.
Lara Backyard Clean-up and rubbish removal
Lara is a residential town with rural surroundings that boasts many properties with large gardens and backyards. No matter if your backyard is big or small or somewhere in between, our services are fully equipped to remove any rubbish you may have collected since your last spring clean.
Unlike other rubbish removal services, at JUNK we offer (at NO EXTRA COST) a series of excavators and scissor lifts that are able to get to junk that other companies simply cannot reach.
There are several different reasons your backyard might need cleanup from JUNK. It doesn't matter if it is because of seasonal changes, hoarding of items, DIY Landscaping projects, or other backyard renovations, JUNK is here to help.
Don't hire a skip bin that you might only half fill and have to do all the heavy lifting yourself. Junk.com.au helps you skip the skip and gets your backyard looking amazing for your guests.
Real Estate Rubbish Removal

No matter if you're a Lara Real Estate agency or a tenant looking to clean up quickly before your next rent inspection, JUNK's rubbish removal service will make sure the home you need cleaned up is removed of JUNK ASAP!
We help real estate and real estate management companies and their tenants in the quick and safe removal of their household JUNK and RUBBISH that helps improve the presentation and cleanliness of their property, creating a decluttered clean environment for future house inspections.
How Much Is The Service?

Here at JUNK we measure all of your rubbish by cubic metres. Depending on how many cubic metres you have will change the price. Not sure how it all works? See our explainer video here.
To find out about pricing you can either enquire online with a photo of your junk (to help us get a better understanding of how many civic metres you need taken away) or call us on 13 44 55.

If you leave an online enquiry we'll make sure to call you back within 30 minutes to give you your quote for the job and confirm a date that best suits you.

So if you live in Lara and are in need of a rubbish removal service, make sure you choose JUNK.com.au, for the service that does it all.
We do all the heavy-lifting

JUNK trucks from 2m3 to 22m3

We service all areas of Lara Rubbish Removal Service